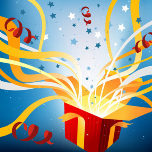 Every week I receive a quick glance newsletter pertaining to the global economy, and this week is no different. Well actually I take that back… it is different because it gives a new perspective on what is a "gift" and what is just another way to keep American's "down" while building up foreign industries. Now before I go further, please do not think I'm a snob. Far from it, because what you'll find below can be applied world wide! Each person reading (sorry you may have to translate it) will discover how they, too, can ensure their own country's economic position gets a much needed boost.
Here's a great way to think in a brand new direction before you hit the stores and spend willy nilly on "stuff" the other person may not even need. It may also stimulate your brain to think in new ways on what to advertise and market online! At the every least, you'll discover alternate ways of looking at gift giving while boosting your local economy:
Holiday 2011 – Birth of a New Tradition?

As the holidays approach, the giant foreign owned factories are kicking into high gear to provide Americans with monstrous piles of cheaply produced goods — merchandise that in many cases has been produced at the expense of American labor. This year could be different. This year Americans will give the gift of genuine concern for other Americans. There is no longer an excuse that, at gift giving time, nothing can be found that is produced by American hands. Yes there is!

It's time to think outside the box. Who says a gift needs to fit in a shirt box? Everyone gets their hair cut. How about gift certificates from your local American hair salon or barber? Gym membership? It's appropriate for all ages who are thinking about some health improvement.

Who wouldn't appreciate getting their car detailed? Small, American owned detail shops and car washes would love to sell you a gift certificate or a book of gift certificates. Are you one of those extravagant givers who think nothing of spending hundreds of dollars on a foreign produced flat-screen? Perhaps that grateful gift receiver would like his driveway sealed, or lawn mowed for the summer, or driveway plowed all winter, or games at the local golf course.

There are countless owner-run restaurants — all offering gift certificates. And, if your intended isn't into fancy restaurants, what about a half dozen breakfasts at the local breakfast establishment. Remember, this isn't about big National chains — this is about supporting your home town Americans with their financial lives on the line to keep their doors open.

How many people couldn't use an oil change for their car, truck or motorcycle, done at a shop run by the American working guy? Thinking about a heartfelt gift for mom? Mom would LOVE the services of a local cleaning lady for a day. My computer could use a tune-up, and I KNOW I can find a start up business who is struggling to get their repair business up and running.

If you can, plan your holiday outings at local, owner operated restaurants.

You see, the holidays are no longer about draining American pockets so a foreign country can build another glittering city. When we care about other Americans, we care about our communities, and the benefits come back to us in ways we couldn't imagine. THIS is a new American tradition.

Feel free to forward this — post it to discussion groups — throw up a post on Craigslist in the Rants and Raves section in your city — send it to the editor of your local paper and radio stations, and TV news departments. This is a revolution of caring about each other, and isn't that what the holidays are all about?

Have a great week!

Sincerely,

Kenneth R. Wink
http://www.summitfc.net
So there you have it! Your shopping now made much easier, and more productive, for every person, in any country. It will be the "little people" who make a difference in pulling the global economy out of its sink hole. And, it's an easy way for you to be part of the solution!