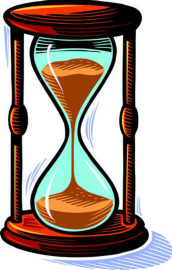 If you ask, you'll get the answer.
The question I've been asking myself is when are the best and worst posting times when using social networks like Google+, Twitter, Pinterest, and LinkedIn.
Curiosity was running circles in my brain like a hamster on his wheel.
Now the great thing is, if you ask, your brain will continue to hunt down the answers for you (a proven scientific fact). Just punch your needed data into your brain and it's like having a bunch of Snow White dwarves all heigh-ho'ing along until you find the solution.
So I wasn't that surprised when I found a resource article while hobnobbing in LinkedIn the other day.
Thanks to Brianna's post on Social Media Today (even back dated May 2013), the best and worst times to post on social networks are revealed.
Brianna had done for me what I'd set in motion to find out.
It's where your customers are that counts.
Brianna's research centers around Social Caffeine. The team there collected what could very well make all the difference for you if you're having trouble gaining momentum on any or all of your own social communities.
At the very least, it makes an excellent reference tool, infograph style.
Here's a bit of Brianna's input (broken into smaller segments for quicker reading):
While this infographic will give you a great base to build from, it is definitely not the answer for every business.

When determining when to post on social media make sure to consider your customers, your product or service, and the types of messages you are posting.

For example, the ideal time for a local bakery to post on Facebook is most likely very different than that of a national brand.

In addition, if the majority of your customers live on the east coast and your company is based on west coast, you will want to post on LinkedIn before and after their workday, not yours.

Source: SocialMediaToday.com
The sound bites to the social network infographic are simple; hone in on the "traffic builds peak times" and the "traffic fades so avoid," using the Benjamin Franklin-style list of pros and cons.
You'll discover:
o Pinning on Pinterest is best done weekday evenings and weekends. More specific times to help you are on the graph.
o That between 10 in the morning and 4 in the afternoon, Monday through Friday is great for Facebook.
o For those who Tweet, strangely Monday through Thursday right after lunch (1 p.m. to 3 p.m.) is your best bet.
o That LinkedIn professionals best connect in the 7 a.m. to 9 a.m. range, and then from 5 p.m. to 6 p.m. (small window), and targeting just two days, Tuesday and Thursday, work well.
o Google+ fans find traction Monday through Friday between 9 a.m. and 11 a.m. (very small window).
Your best strategy would be to test out these times for yourself and adjust accordingly.
Nothing is written in stone.
Infographics are great because they provide compact information in almost picture book formatting.
But there are exceptions to every rule, and Time+ is another area to study (and perhaps another post).
For a quick example from the Time+ website, Guy Kawasaki does things his way (he can) and posts primarily on Sundays (although he dribbles bits here and there throughout the day on Twitter, pre-scheduled no doubt with tools similar to (if not) Hootsuite).
So take the following information for what it is… a reference tool but not the be-all, end-all in posting to social networks.
That said, without further ado, here's the infograph:

Do you have a different opinion, your own "best or worst" time? Leave you comments below and let the rest of the world in on your insights!